Donna Cash
Industry Expert, Fabricator
Donna Cash is owner and operator of Designs by Donna, a soft furnishings design and fabrication studio, established in 1989. In addition to working with wholesale and retail clients, Donna conducts private training on workroom fabrication techniques and participates in group seminars for the home decor industry. She is a member of the Designers Workroom Council and the Window Coverings Association of America (WCAA).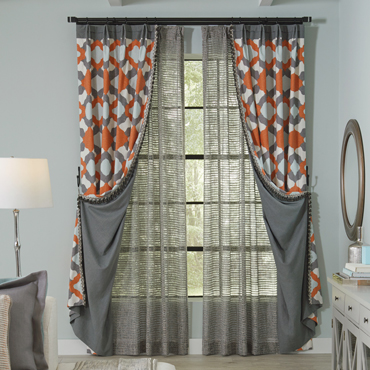 Fabricating Pleated-to-Pattern Panels with Beaded Trim
Follow along as Donna Cash fabricates intricate pleated-to-pattern panels with contrast banding and beaded trim. From our Metropolitan Comfort Living Roomscape, our drapery treatment also features a second loosely woven sheer layer with a Euro relaxed pleat. Both panels are installed on AriA® 1 1/8" diameter H-Rail Traverse Hardware in Matte Black finish with the stacked cube mix-and-match finial from our new Atelier collection. To accentuate the detailed trim and contrast lining, we've pulled the panels back and to the side with a drapery holdback also from our AriA® collection, showcasing the designer details and upscale fabrication techniques.
In this webinar, you'll learn how to:
Pleat drapery panels to pattern
Fabricate loosely woven sheer panels with Euro relaxed pleat
Install panels on AriA® 1 1/8" H-Rail Traversing Hardware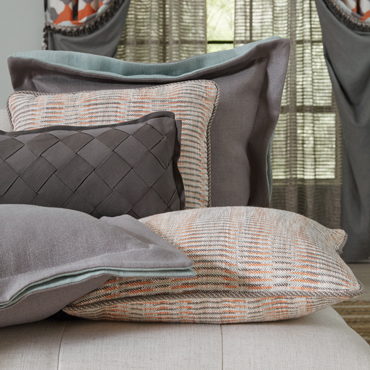 Creating Assorted Throw Pillows with Unique Design Elements
Our Metropolitan Comfort Living Roomscape is decorated with unique design elements including a variety of pillow styles and shapes for a comfy yet designer living space. Join our expert fabricator, Donna Cash, as she fabricates 3 different throw pillows ideal for couches and decorative bedding sets.
In this webinar, you'll learn how to:
Fabricate a pillow with decorative braid and zipper above the seam
Create a double flange pillow
Design and fabricate a specialty pillow with flat braid trim