Donna Cash
Industry Expert, Fabricator
Donna Cash is owner and operator of Designs by Donna, a soft furnishings design and fabrication studio, established in 1989. In addition to working with wholesale and retail clients, Donna conducts private training on workroom fabrication techniques and participates in group seminars for the home decor industry. She is a member of the Designers Workroom Council and the Window Coverings Association of America (WCAA).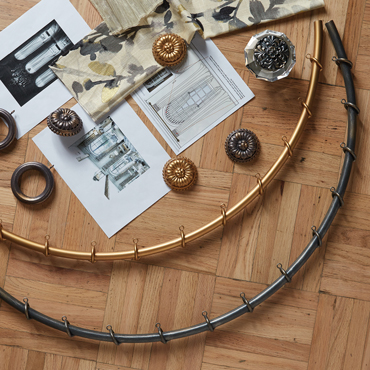 Design to Installation: Templates, Tips and Techniques for Arch Windows
Featured in our luxurious Hollywood Regency Roomscape, unique window styles are a beautiful way to complement the architecture and design of a home. The detailed preparation for a project requiring custom templates can take the stress out of the process from design to installation. Join our fabrication expert, Donna Cash, as she provides tips, techniques and recommendations to set your unique window project up for success from start to finish. As a bonus, learn about her experience working with The Finial Company® to design a custom arched rod with welded rings, brackets and tiebacks.
In this webinar you will learn how to:
Make a template for unique windows and a perfectly fitting arched rod.
Install a custom arched rod inside the window frame.
Tips and tools for a stress-free installation.
Fabricate Stunning Designs for Custom and Arch Windows
Dress up your arches with style! The lavish fabrics and rich finishes featured in our Hollywood Regency Roomscape express the collaboration between fabric artisan and hardware artisan blending two exquisitely designed window treatments with two custom crafted decorative hardware styles. Join our design and fabrication expert, Donna Cash, as she provides detailed instructions on how to fabricate elegant sheer panels for a custom arched rod designed by The Finial Company™ and complementary drapery panels with unique pleated headers. Also, learn how to design and fabricate coordinating custom pillows to elevate the style of the room.
In this webinar you will learn how to:
Fabricate drapery panels with a unique pleated header.
Fabricate sheer panels for an arch top window.
Design and fabricate coordinating custom pillows.