Donna Cash
Industry Expert, Fabricator
Donna Cash is owner and operator of Designs by Donna, a soft furnishings design and fabrication studio, established in 1989. In addition to working with wholesale and retail clients, Donna conducts private training on workroom fabrication techniques and participates in group seminars for the home decor industry. She is a member of the Designers Workroom Council and the Window Coverings Association of America (WCAA).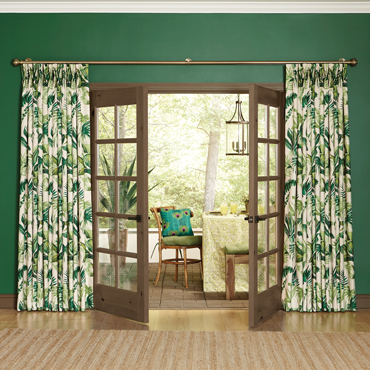 Fabricating Traverse Drapery Panels on AriA® H-Rail + a Bonus Coordinating Pillow Design
In our fresh new Summer Entertaining Roomscape, we're creating beautiful, flowing traverse drapery panels installed on AriA® H-Rail in the new larger 1 3/8" diameter. Join our expert fabricator, Donna Cash, as she provides detailed instructions on how to fabricate these tropical drapery panels from start to finish with a two-finger pinch pleat header, including installation. As a bonus, Donna will also share a unique pillow style design with nail head/button trim to accent your indoor/outdoor space.
In this webinar you'll learn how to:
Create traversing drapery panels in a beautiful tropical fabric pattern to bring the outdoors in.
Design and fabricate a new and unique pillow style to brighten your furniture.
Install panels on AriA® H-Rail Traverse Hardware.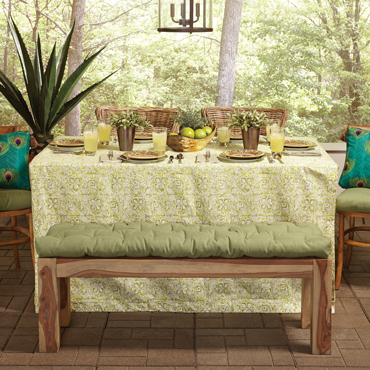 Decorating Tips and Techniques for Outdoor Dining Spaces
From our Summer Entertaining Roomscape, follow along with our expert fabricator, Donna Cash, for a lesson in decorating with the outdoors in mind. Discover how to fabricate a variety of custom pieces including a floor length tablecloth, bench cushion, chair cushion with center tufting and Turkish pillows with corner tassels, all ideal for outdoor spaces. Also, learn how to sew mitered corners for napkins and find out what tools you'll need.
In this webinar you'll learn how to:
Fabricate a floor length tablecloth for outdoor dining.
Create a bench cushion with unique quilted pattern and outdoor pillows.
Sew a mitered corner to custom table napkins.