Donna Cash
Industry Expert, Fabricator
Donna Cash is owner and operator of Designs by Donna, a soft furnishings design and fabrication studio, established in 1989. In addition to working with wholesale and retail clients, Donna conducts private training on workroom fabrication techniques and participates in group seminars for the home decor industry. She is a member of the Designers Workroom Council and the Window Coverings Association of America (WCAA).
R-TEC Automation® Smart Living Roomscape
Discover smart living solutions for automation in our newest Roomscape series – R-TEC Automation® Smart Living, featuring Donna Cash. Donna is a Window Industry Entrepreneur and Fabricator with expertise in R-TEC Automation® by Rowley featuring motorized shades and draperies. Join Donna as she introduces the R-TEC Automation® Drapery Hardware Systems, including AriA® 1 3/8" Automated H-Rail Traverse, as well as guides you through fabrication methods to create draperies tailored for automation. As a bonus, Donna will highlight how to fabricate three new pillow styles to perfect any modern living room.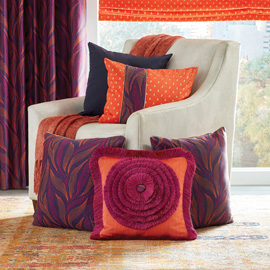 Accenting Any Room with Custom Pillows
In this webinar you will learn how to:
Design and fabricate 3 new pillow styles
Mix & match pillow sizes for the perfect balance between size and style
When & why to line and/or interline custom pillows